2019
November 9th & 10th
 Tolworth Recreation Centre,
Fullers Way North, Tolworth, Surrey, KT6 7LQ.
Saturday 9th November 10.00am - 5.30pm
Sunday 10th November 10.00am - 5.00pm
Hampton Court Model Railway Society proudly presents annual show, Tolworth Showtrain on the 9th and 10th November 2019.
Tolworth Showtrain 2019, covers three halls of the Tolworth Recreation Centre and features 24 working layouts covering both a variety of scales, time-periods and locations, with superb modelling and entertaining operation, including one where children can drive the trains, along with comprehensive Trade support, including one new this year. There are also demonstrators who will give hands on tuition in modelling skills. This is your opportunity to try your hand at something new, age will be no barrier to this, and you will probably have something to take away.
We aim to provide entertainment for everyone, not just the dedicated enthusiast, and many will remember Roland Emett and his eccentric designs for the Far Tottering and Oyster Creek Railway, this world is admirably brought to life with Mike Walshaw's layout Scratchy Bottom. Or you may prefer St Ruth, a 2mm scale layout that is almost a model of Penzance.

On SUNDAY one Child will be admitted FREE with every paying Adult.
There is a free Bus link from Surbiton station which is served by South Western Railway services. The timetable will be available on the website in early October.
Several TfL bus services stop within 10 minutes walk of the show.
The show is fully accessible with everything being at ground level.
The Proops Showtrain Cup Winner 2019
'Somewhere in France'

Awarded to the layout with the most public votes for best in show.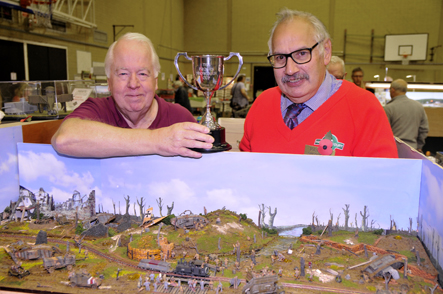 Exhibitors

Name
Scale
Gauge
Location
Harlyn Pier
7mm
32mm
SR
Sidmouth
4mm
18.83mm
BR SR
St Ruth
2mm
9.2mm
GWR
Merstone & Ventnor West
4mm
16.5mm
IOW
Scratchy Bottom Halt
1:22.5
15mm
Rowland Emett
Ferrocarril San Maria Gandia
3.5mm
16.5mm
Spanish
Tansey Bank & Hobbs Row
4mm
9mm
Warwichshire
Clayton West
4mm
16.5mm
BR
Rolvenden
4mm
18.83mm
KESR
Bigbury
4mm
16.5mm
BR
Daconby Town
3mm
14.2mm
BR ER
The Yard
7mm
16.5 & 32mm
Industrial
Aldbourne
4mm
9mm
British
Itchen End Goods Depot
7mm
32mm
Southern
Honeyford upon Avon
2mm
9mm
GWR/LMS
Edward Junction & Thomas End
4mm
16.5mm
Sodor
Netherwood Sidings
7mm
32mm
MSW
Cucknoe
2mm
9mm
LMS/LNER
Somewhere in France
4mm
9mm
WW1
Palmerston Road
7mm
32mm
BR
Tarring Neville
4mm
16.5mm
SR/Industrial
Bankfield Road
7mm
32mm
LMS
Thorney Milk
7mm
32mm
GWR
Shelvington
4mm
18.83mm
BR SR
Horsebridge Wharf
4mm
18.83mm
SR
Lee-on-Solent
4mm
18.83
LSWR
Demonstrators & Societies

Gauge O Guild
South Western Circle
Soldering Tuition
Geoff Ford
Scenic Modelling Tuition
Hampton Court Model R'way Society
Traders

Model Railway Developments
Country Park Models
Dingo Servo Mounts
Golden Arrow Productions
Kent Garden Railways
Roxey Mouldings
KS Laser Designs Ltd
Heritage In Motion
JB's Model World
Roxley Models
Sunningwell Command Control Ltd
Carriage & Wagon Models
Tools 2000
RCTS
C and L Finescale
Medway Queen Preservation Society
Models U Drive
Addlestone Model Centre
P and G Engineering Supplies
Roy Allen
Masterpiece Figures
Rail - Books.Co.UK
Harrison Brown Models